From East to Zest – Open Through March 5
November 7, 2022 @ 9:00 am

-

November 13, 2022 @ 4:00 pm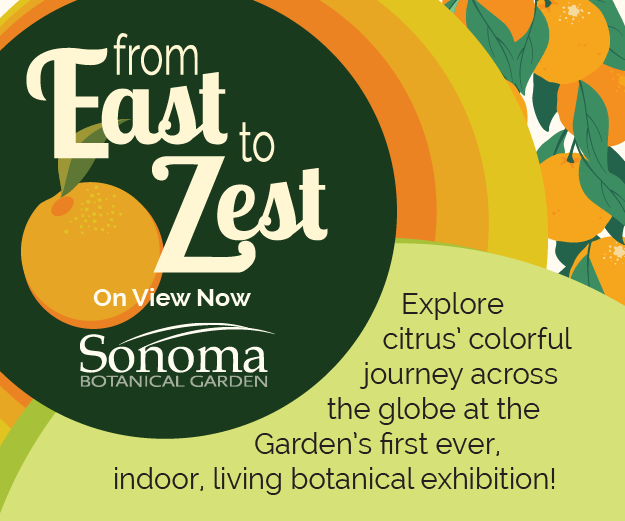 Visit Sonoma Botanical Garden's first indoor, living exhibition
From East to Zest: Citrus' Colorful Journey Across the Globe!
On View Nov 5- Mar 5 | Free with Garden Admission
Imagine Peruvian food without lemons, or Mexican cuisine without limes!
Nearly all citrus originated in Southeast Asia, but today are ingrained in the cuisines and cultures of the Americas, thanks to their journeys across the globe. Immerse in fragrance and color, and pick up fun facts, from the myth of the Meyer Lemon to the cause of the Grapefruit Effect. See and smell the results of thousands of years of cultivar selection and breeding, including such culinary treats as the Yuzu and Sudachi, the bizarre Buddha's Hand, and interesting hybrids like the Limequats and Mandarinquats, all of which have travelled far from their historic ranges, with new DNA evidence changing how botanists think about this tangled floral family.
Rooted in a commitment to conserving biodiversity, Sonoma Botanical Garden is a woodland experience where East meets West. The former quarry is now home to a 25-acre treasure trove of plants collected from East Asia, a 22-acre California native oak savanna and a small Cabernet vineyard. And NEW this fall— take the recently opened California Trail for a more accessible route to the heart of the Asian garden!
More info at sonomabg.org.