Continue to check back here for updates and resources
6/23/20
Downtown Santa Rosa to resume charging for parking July 1, 2020
6/18/20
Gov. Newsom mandates masks in public spaces
6/9/20
California movie theaters can begin opening later this week. Read more here
6/8/20
California releases guidelines for reopening schools
6/2/20
Sonoma Coast beaches are reopening Wednesday, June 3rd
5/29/20
Five Sonoma County Libraries will open for curbside pick up starting June 1
5/26/20
Gov. Newsom announced that hair salons and barbershops are officially allowed to reopen in all but 11 CA Counties; however Sonoma County Health Officer says it will not happen yet in Sonoma County
Here is a list of Sonoma County restaurants open for patio service
5/23/20
Sonoma County gets clearance to open restaurants for outdoor dining this weekend. Read more here.
5/20/20
BottleRock presents Re(LIVE) BottleRock. Stream past performances weekly HERE beginning 5/23 at 3pm PDT
5/14/20
The 2020 Santa Rosa Wednesday Night Market has been cancelled

5/13/20
Retail businesses, restaurants and more are open at Montgomery Village. See the full list of essential business open for business here.

5/4/20
Key points from Gov. Newsom's plan to institute Phase 2 of reopening California (per CNBC):
California Gov. Gavin Newsom on Monday said some of the state's retail businesses could begin reopening with modifications by the end of this week if certain criteria are met.
Newsom said state officials will issue further guidance Thursday on the state's next phase of reopening, which will include specific guidelines that low-risk businesses must meet in order to reopen with modifications as soon as Friday.
He said retailers of such items as clothing, books, music, toys and sporting goods, as well as florists, would be allowed to offer curbside pickup services if they institute state guidelines.
This does not include offices, restaurants for seated dining, or shopping malls
Are you an essential worker needing help paying for child care? Did you know 4Cs of Sonoma County can help you find and pay for a child care provider thru June 30th.  For more information and to apply, please visit the 4Cs website at www.sonoma4cs.com or call 707-522-1413 x 159.
5/3/20
The 2020 Krush Backyard Concert Series has been cancelled
5/1/20
The Sonoma Marin Fair has been cancelled
4/29/20
The 2020 Sonoma County Fair has been cancelled
Sonoma County eases restrictions on park use.  Read for more details on acceptable usage
4/27/20
BeerFest The Good One has been cancelled for this year
4/25/20
Peacetown Summer Concert Series 2020 has been cancelled
4/24/20
Here's a running list of virtual concerts coming up
Finally they suspend the 10 cent plastic bag charge at grocery stores
Lysol warns against ingesting or injecting their products into your body after President Trump comments
4/21/20
It's been a month, why aren't the stores fully stocked still?  In a nutshell, the Press Democrat says "The answer is more complicated than just panic buying or hoarding. With most people stuck at home, shopping habits have changed dramatically. And that's put a strain on a food supply chain ill-equipped to handle rapid fluctuations in demand of homebound consumers and a store workforce on the front lines of the area outbreak."  Read the full story here
Ticketmaster: Will they or won't they issue a refund for concert tickets?  Here's the latest
4/15/20
The Mystic Theatre is reaching out in hopes of your support during this challenging time. They are rolling out a gift card program with 20% off, and 10% of all sales to venue staff. Gift cards are redeemable for any show and do not expire!
The Live at Juilliard Park 2020 series has been cancelled
4/13/20
In a statement from  California Governor Gavin Newsom, Oregon Governor Kate Brown and Washington Governor Jay Inslee announced that "California, Oregon, and Washington have agreed to work together on a shared approach for reopening our economies – one that identifies clear indicators for communities to restart public life and business." Read the statement Tomorrow Governor Newsom will lay out the plan to the public
SoCo Health Organization requires face coverings in public
4/1/20
Here is a list of resources for Californians affected by Coronavirus (including unemployment benefits, paid sick leave, info for returning to the US and more)
California schools will not reopen this academic year
Here's how and why to clean your phone 
3/31/20
Shelter in Place extended through May 3rd
3/30/20
More tests coming (and they're quicker)
In need of a job? Local companies hiring!
Keep your Zoom Meeting sage with these tips
3/29/20
Trump extends social distancing guidelines to April 30
3/25/20
Mystic Theatre in Petaluma has postponed all shows through April
Santa Rosa public schools extend closure until May 1
3/24/20
White House, Senate reach deal on massive $2 trillion coronavirus spreading
3/23/20
Sonoma County parks will close beginning Tuesday, March 24 at midnight
2020 Summer Olympics will be postponed
Applause for these landlords who are helping their tenants with rent
Soccer players across the nation team up to PASS THE MESSAGE
3/22/20
Santa Rosa City Schools announce they are providing meals for kids/teens and more resources starting Monday, March 23 – Click HERE for more
REFB has a "food finder" for produce, groceries, senior baskets, hot meals more near you. Find it HERE
3/20/20
The IRS has moved tax day to July 15!
Santa Rosa City Schools announce they are providing meals for kids/teens and more resources starting Monday, March 23 – Click HERE for more
New rules allow business to offer to-go and delivery for alcoholic beverages
3/19/20
Gov. Newsom calls for a state-wide Shelter in Place
If you are co-quarantined or forced to stay in place with someone who is abusing you and/or your loved ones, there are resources available to help you.
if you would like to speak to a member of our Behavioral Health department please call (707) 521-4550. Get more info HERE
Here is a list of essential businesses OPEN at Montgomery Village who need your support
Click HERE for a list of Sonoma County restaurants offering takeout, curbside pick up and delivery
For those of you who feel the overwhelming need to help others, here is a great list from the Press Democrat
Here is a list of Virtual School Activities. A collection of sites to live webcams, virtual tours/trips, and other miscellaneous fun academic sites
Special take-out menu with family options from Victory House
3/18/20
3:40pm – Oliver's announced Senior Only Shopping Hour 7 days a week from 6am-7am for seniors 60+ beginning Thursday, March 19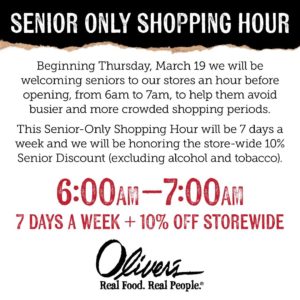 2:40pm – Bottlerock Napa Valley issued the following statement: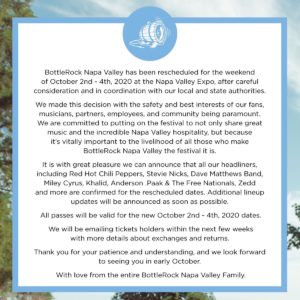 3/17/20
NY Pie is open for delivery and take-out. Call (707) 526-9743 or visit the website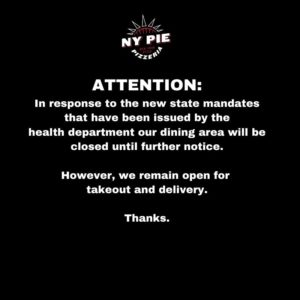 3/17/20
A Shelter in Place Order for Sonoma County will go into effect 12am 3/18/20